What to Do if Your Parent Needs Elderly Live-in Care



Speak to one of our experts
Our friendly experts are here to help from 9am to 7pm, 7 days a week.
Coming to terms with the fact that your loved one may need long term elderly live-in care can be quite daunting. There are plenty of options out there, and being informed can help you make the right decision for your elderly parent or loved one. Their comfort and security are paramount, and if you think elderly live-in care at home may be the answer, this guide is for you.
With years of experience matching our clients with an individual carer for tailored support and companionship, we can help inform you of the options so you can make the right decision for your parent or loved one.
Does your parent need elderly live-in care?
It can be challenging to figure out when and why your parent may need elderly live-in care, or assistance from a carer. There is a range of live-in care services available, and The Live in Care Company can help you to decide what type of care you need to get for your parents. Usually, care is decided through a combination of you noticing your parents are not coping as well by themselves as they used to, or if they have had a recent hospital stay and they need support with their rehabilitation. It is unlikely that your parents will admit to needing help as it can be difficult for older people to come to terms with the fact that they may not be as independent as they used to be. When deciding to start live-in care, an option could involve starting with minimal hours per week and increasing as care needs increase with age. There is no harm in having a carer come in a few hours per week to help for instance with grocery shopping or household tasks and for this care to increase to a few times a day once your parents' needs also increase, which is typical as we age.
Does your parent struggle with any of the following? If so, live-in care at home may be for them.
Day to day housekeeping
Administering medication 
Memory or routine
Mobility
Personal care needs such as washing and bathing
Organising social events
Preparing and eating meals
When should you consider elderly live-in care for a loved one?
Live-in care for the elderly is often considered once a loved one has had an accident or they have been hospitalised. However, it is often a good idea to think about a live-in carer for the elderly prior to such an event. Live-in care specialists can talk through with you about the options they provide, and will help you work out how much input is appropriate for your loved one. Remember, all forms of elderly care can begin with daily visits, before transitioning to full time care if appropriate.
At home support
A live-in carer can support your loved one within their own home, meaning that their daily structure does not need to be changed or interrupted.It can be challenging for your loved one to come to terms with the fact that they need a carer and to make room to have someone live in their home but this can be managed better by sitting down to discuss their concerns.
It can be a good time to list the things you think that they are struggling with and what a live-in carer might be able to do to help them. For instance, if they have reduced mobility and are struggling to do things around the house then a carer can help them with this. Similarly, they may be having difficulties getting to social events or going out of the house as often as they used to.
Companionship
A carer can help them to maintain their social relationships whilst also becoming a companion. Elderly live-in care can also help with personal care and with people who have physical difficulties and need medication management.  They can also be particularly beneficial for your loved one if you have noticed a decline in their cognitive health, as this could be an early sign of dementia.  Live-in dementia care is another service care agencies provide, and can offer peace of mind at home for both you and your parent.
How does elderly live-in care work?
Elderly live-in care works by having a carer come into the home of your loved one to live alongside them and support them with their daily routine. There must be a spare room in the house so that the carer has their own space and independence. This can help foster a better relationship between your loved one and the carer and they can work out a care package that suits you and your loved one. A live-in carer will need time to themselves and they will need 8 hours sleep at night. Before them starting work, you can discuss the care routine with the carer and the live-in care agency so that your loved one is being supported when necessary whilst also allowing the carer to feel they have time to rest.
Benefits of elderly live-in care
It can be reassuring to know that there is someone in the house with your loved one, however, even if the person providing live in-home care is not working throughout the hours of the night, they are still in the house with your loved one should the need for support or an incident arise. If your loved one has dementia or you have noticed a decline in their cognition then a live-in carer can increase their hours to match the needs of your loved one. Sometimes two carers can share the work so that your loved one is supported throughout all hours of the day and night, but this is usually only required during more advanced stages of dementia and at this point, you may even consider a care home.
Is live-in care the right option for my parent?
Care in the home is often the right option for your parent if they need support within their daily routine that goes above that which could be offered by carers dropping in at specified hours of the day but also if they do not want to move out of their home into a care home. It is very much the preferred choice of many elderly people to be able to remain at home with their belongings and the comfort of a home they know well. It can be quite devastating for older people to leave their home, their community, pets and personal belongings and move into a residential home.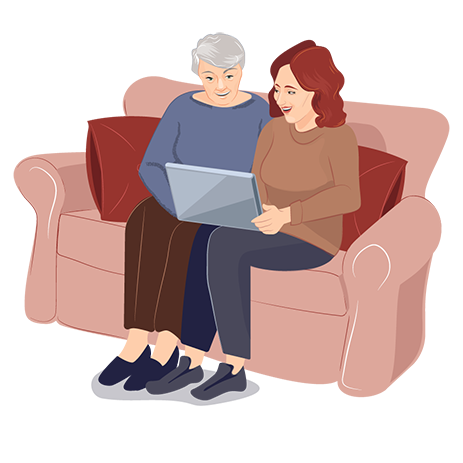 Having a live-in carer means that they are able to stay put and be supported with any difficulties they have. A live-in carer can also become a companion for your loved one so this can be a good op
tion for your parent if you feel they are lonely and in need of social support. Social interactions are recommended as part of a healthy lifestyle and are thought to help protect people against depression and cognitive impairment so it is a crucial consideration if your parent is living by themselves.
Costs and considerations of live-in home help for the elderly
Live-in care agencies are able to help you work out how much a live-in carer will cost for your loved one's needs.This varies depending on what area of the country you live in and it also can vary between agencies. Live-in home care can sometimes work out as cheaper than a residential home but you will need to have a spare bedroom for a live-in carer in your loved one's home and they will need access to bathroom facilities.
How can we help?
Arrange live-in elderly care with us today with our hassle-free and straightforward process. Our helpful team will provide you with the appropriate assessment of the level of care required, and will take you through all the options available for your parent or loved one.