Diabetes in the Elderly: Can Diabetes Care Help?



Speak to one of our experts
Our friendly experts are here to help from 9am to 7pm, 7 days a week.
How important is it to manage diabetes in the elderly?
It's important to manage diabetes at any age,  but diabetes is particularly important to manage in the elderly. This is because diabetes in the elderly can lead to other potential health complications if it is not managed properly. This can include high blood pressure, high cholesterol or other conditions.
Here are some simple tips to share with an elderly loved one to help them manage their diabetes as they get older: 
Take your medications as prescribed by your doctor. A live-in carer for the elderly can help to remember to do this every day.

Try to implement some form of exercise into your day. Even if this means pottering around the garden or doing armchair exercises. Keeping up regular movement can help to strengthen your muscles and your mind.  

Avoid sugary, carbohydrate-heavy, processed foods. Try to swap these foods for fruit, vegetables and whole grains. 

Ensure that you are staying hydrated with water and fluids. 

Aim to reduce stress in your life. One way to achieve this is by finding a suitable live-in carer to help to take some of the stress away from difficult tasks. 

Get regular check-ups from your healthcare team to ensure you are on track to managing your diabetes well. 
Since a person's diet is a key component of well-managed diabetes Nutrition and Live in Care on the role live-in care has with nutrition can provide you with further information.
Can diabetes become more dangerous as you get older?
Diabetes can become more complicated as we age. Someone with diabetes may find that their symptoms change with age or they may dismiss some symptoms as "getting older".Symptoms include feeling more tired than usual, an increase in thirst or hunger, weight loss, an increase in urination and problems with vision. 
As we age, we have the added complications of increased risk for cardiovascular problems and diabetes can increase this risk. Similarly, as we age, our kidneys may not work so well and this can be problematic for those taking diabetic medication since the kidneys are worse at removing the medication from our bodies. This can result in something called hypoglycaemia when your blood sugar levels drop too low. 
This can be dangerous, and it is important to talk to your doctor if you feel dizzy, confused, blurred vision or other symptoms that are new for you. So, diabetes can exacerbate problems that are more likely to arise in older adulthood, therefore it is important to treat your diabetes appropriately and engage in a healthy lifestyle to minimise complications resulting from diabetes.
What can happen if an elderly diabetic isn't treated?
Diabetes in the elderly can easily be missed,  especially if that person is living by themselves and not aware of some of the signs that differentiate between diabetes and natural ageing. If diabetes is left untreated then this can cause significant health problems further down the line and result in severe illness or even death. Untreated diabetes can cause problems with eyesight, mobility, cognitive functioning and can increase fatigue and inactivity. The elderly person may be at an increased risk of falling due to poorly controlled sugar levels resulting in light-headedness and temporary visual impairments. 
Without clear medical input, there are many risk factors and since modern medicine has excellent ways of managing diabetes, it is important to access these services and help the elderly person live a good quality of life. 
A live-in carer can be a great help when it comes to noticing any signs that might indicate diabetes or when it comes to supporting an elderly person with their lifestyle, so that the risk of diabetes is reduced. Lifestyle changes can be critical in the management of diabetes, as can regular insulin, which a live-in carer will be experienced in managing. Our Live-in Care Guide for Relatives explains more about how live-in carers can help your loved one. 
What happens if diabetes is left untreated?
Usually, when you eat sugar, your body breaks this down and uses it for energy. Diabetes is when your blood sugar levels become too high in your body due to your body not producing enough insulin, the hormone which breaks down sugar into energy. This high sugar level can cause serious organ damage and results in complications. 
How live-in care can help manage diabetes
Diabetes can become very unpleasant if it is left untreated and it can affect all parts of the body. In the worst-case scenario, diabetes can actually kill you due to complications such as a stroke, kidney failure and heart attack. Other complications may lead to amputations. There are simple ways of protecting yourself against such damage, so it is important to manage your diabetes using these strategies to avoid long-term health complications. These include taking medications and opting for a healthier lifestyle.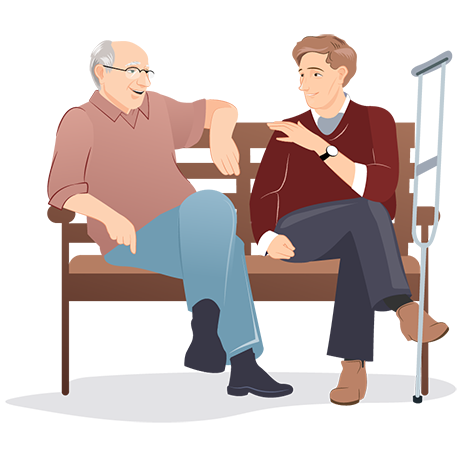 Complications of diabetes in elderly people
As we age, self-care may diminish, leading to less healthy ways of living, poorer dietary patterns, less exercise and increased loneliness. Older adults with diabetes are at higher risk for conditions such as depression and cognitive impairment, which in turn can result in making diabetic self-care more challenging. 
Elderly diabetes can be just as well managed as those in younger people, but it does still take effort and motivation from the elderly person. Other simultaneous mental or physical health conditions can complicate the situation as diabetes may well need to be treated alongside disability, reduced mobility, special dietary requirements, increased medication and changes in cognition. These can make self-management of diabetes more challenging and this is where support is often advised. Live-in care can help with the medication management of people living with diabetes and ensure that their diabetes is being well managed through a 
healthy lifestyle. 
Helpful links:
Medication Management and Live-in Care 
Guide to Medication Management at Home 
How can we help?
The Live in Care Company can help you make arrangements for a live-in carer via an easy and straightforward process. We can help you seek support for an elderly relative and we are very happy to be able to discuss all of the care options with you. 
Our team will be happy to speak to you and will take the time to help you understand your options fully before matching you with a wonderful live-in carer.
You may speak to us by calling 0118 449 2373, filling in an enquiry form on our website or contacting us at hello@theliveincarecompany.co.uk.