Stroke Recovery and Live in Care



Speak to one of our experts
Our friendly experts are here to help from 9am to 7pm, 7 days a week.
In this article, we look at how elderly live-in care can be a suitable choice for someone recovering from a stroke. Read on to discover what happens when somebody has a stroke and the process of stroke recovery.
What happens when someone has a stroke?
A stroke occurs when the blood supply to part of the brain is cut off. This can be of different levels of severity and therefore, the damage that a stroke causes will differ from case to case. Quite often though, after a stroke, there will be a period of time when someone needs to go through rehabilitation.
Can a person live alone after a stroke?
Rehabilitation depends on how the person has been affected by the stroke, the type and quality of rehab given and the person who has suffered the stroke. It usually includes physiotherapy, occupational therapy, speech and language therapy, psychological input and specialist nurses and doctors.
Stroke rehabilitation
There will be rehabilitation goals specific for the person and these will focus on helping the person to relearn skills they may have lost as a result of the stroke affecting the brain.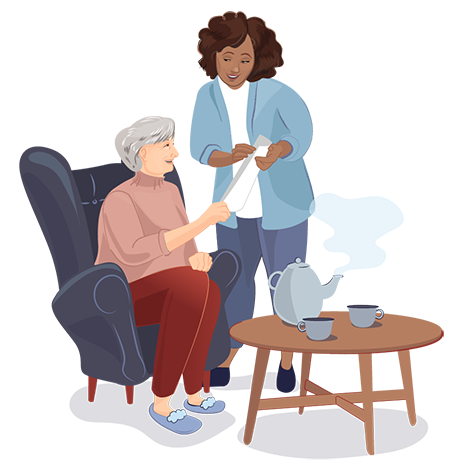 Post-stroke care includes the continuation of these goals at home and stroke care may be primarily offered in the patient's home.  It can therefore be helpful to have a supportive care team to aid the person at home when their rehabilitation team may not be present. Live in care specialists can help with everyday duties while the patient focuses on their rehab goals. 
Stroke recovery can be made more complicated due to previous physical health conditions. Rehabilitation will always aim to support natural recovery, so it is key that the patient engages with support early on in their recovery. If a stroke patient is discharged from hospital, it would be best for them to have someone at home to support them. This can make a great deal of difference in terms of their motivation, mental health and comfort, helping them to engage in rehabilitation.
How can live-in care help with stroke recovery?
Live-in care for the elderly can help in the stroke recovery process by offering one-to-one personalised home care. A live-in carer can help with everything from personal care to medication management. Stroke aftercare involves a focus on rehabilitation, and it can be a stressful time for those who have had the stroke and their family members. Having support at home with a live-in carer can make a great deal of difference. It can allow the person to focus on their recovery and to have the support of their family as family members rather than as burnt-out caregivers.  The person who has had the stroke may have complex needs that also go beyond what family members are able to cope with. There may be difficulties with speech, mobility, personal care, toileting and their cognition may be affected.
A live-in carer can be around to support at times of the day that have been decided upon in advance, depending on the specific needs of the individual. This can be incredibly reassuring for family members to know that someone is available to provide support and keep their loved one safe. Mobility is often affected as a result of a stroke and this can restrict the person from being independent in various aspects of their life. You can read more about the benefits of live-in care for those with mobility difficulties here.  
Live-in carers are trained and understanding, they will be knowledgeable about stroke recovery in elderly people and be able to provide care in the comfort of the person's home. This means that your loved one can feel relaxed and focus on their recovery, without feeling isolated or lonely in an unfamiliar location. Live-in caregivers can also keep track of medication routines, any medical appointments and liaise with healthcare professionals so that the daily rehabilitation exercises are carried out once the rehab therapists have gone home. 
Don't forget: You may need to adapt the home for a live-in carer, and it can be really helpful to do this in advance of your loved one returning home. You can read more in our guide: Adapting Your Home to Live in Care
If you think your loved one is in need of specialist elderly care at home, contact us today to discover how we can help you.