Christmas Gift Guide for People with Dementia



Speak to one of our experts
Our friendly experts are here to help from 9am to 7pm, 7 days a week.
With Christmas just around the corner, thoughts turn to gifts for your elderly loved ones! With experience in live-in dementia care at home, we're happy to share this gift guide for those with dementia to help you think of suitable Christmas presents for your loved one this Christmas.
Discover our dementia resources:
What is the difference between dementia and Alzheimer's?
Dementia: What are the early signs?
15 Activities for those living with dementia
Gift ideas for people with dementia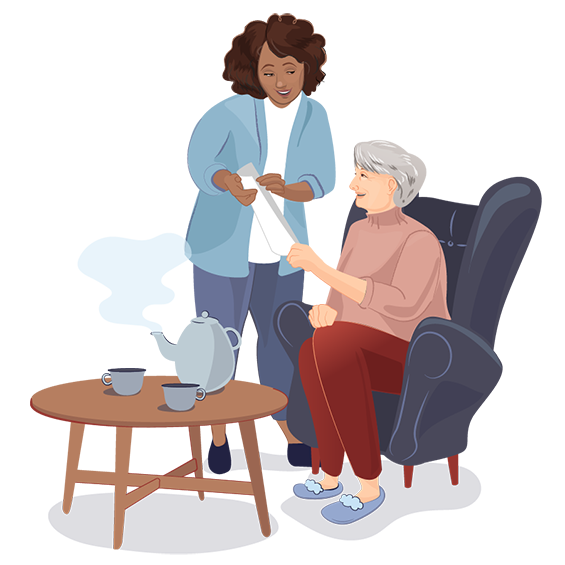 Giving gifts at Christmas is an integral part of many family traditions. When a family member is living with dementia, it may be hard to find an appropriate gift for them; dementia is a progressive disease and it can be hard to know what may be appropriate. However, it doesn't have to be difficult; there are plenty of great presents that can either help with comfort, familiarity, or cognitive function.
Here is a list of dementia gift ideas:
Jigsaw puzzle
A jigsaw puzzle is a fun and inventive present that can provide a stimulating, fun activity to do with your loved one. There are so many types of puzzle out there, so you can find one suited to your loved one's hobbies. Jigsaw puzzles also vary in difficulty, so you can find one suited for your loved one that isn't too complicated. There are simpler puzzles that are available which are specifically designed for those with dementia. With 12 or 12-piece puzzles available, for example, you can now easily find enjoyable puzzles that don't confuse or frustrate your recipient!
A photo album filled with family photos
As a progressive disease that can impact memory, a photo album filled with family photos is a simple way that you can help to remind your elderly loved one of familiar faces and memories. Dementia can, sadly, make it harder for a person to recognise faces that should be familiar. Visual reminders such as photos are a simple way you can help encourage your loved one to think and try to remember, and can help trigger happy memories.
A radio
A radio is a perfect companion. For decades radio has been used to connect people around the world, and can help people feel less alone if they go through periods of loneliness or confusion. Even if just quietly playing in the background, radio can be an instant boost and with so many channels to choose from, it's easy to find your favourites. Multiple studies have found how music can help those with dementia, as it can stimulate the mind and help to trigger memories, improving general attention, cognition (thinking) speech, and communication skills. Music is also universally known for its ability to reduce agitation and help with mental illnesses such as depression and anxiety, all of which will help calm the mind. Here's a guide with radios and music players designed for those with dementia to get you started!
An alarm clock with a visual display of both time and date
A visual aid such as a large alarm clock that shows the time and date clearly can be a helpful device that can easily be integrated into your loved one's home. A simple visual aid like this can help to avoid confusion, and the visual display can keep an elderly person aware of routine throughout the day.
A personalised wall calendar
Wall calendars are a simple, but effective way to help someone keep track of their social appointments, medical appointments and everything in between. It is hard to keep track of everything regardless of cognitive disease, which is why a wall calendar can be really beneficial in helping your loved one remember everything.
A fluffy bathrobe
Sensory presents are always a good idea for those suffering from dementia, and a fluffy bathrobe is the perfect Christmas gift for somebody to keep them warm and cosy in the winter. They can use it again and again, and it can become a wardrobe staple that's cosy and soft throughout the year!
Automatic night lights
Automatic lights on timers can be a great way to simplify an elderly person's routine, particularly if they are living with dementia. It can be easy to forget to switch off lights when living with dementia, and timed lights can help to assure a routine is stuck to and your loved one doesn't have to worry about it!
Activity books such as crossword puzzles and sudokus
Activity books are universally acknowledged as a great way to stimulate cognitive function and help improve our memory and communication. There are plenty of resources out there that are specifically tailored for those with dementia, and can be a great pastime that can be enjoyed at their own pace.
Classic films from your loved one's youth
Similary to music, films are another way to stimulate the brain and trigger emotive response and help with memory. Older films that your elderly loved one may have enjoyed are another simple way you can boost cognitive health and bring back happy memories.
A membership to a health club
If your loved one is able to get out and about freely, a great idea for a gift is a membership to a health club. This can give them freedom, flexibility and familiarity to attend a health club they are familiar with whenever they like.  If they need a carer to help them, this can be a fun day out. Swimming is universally acknowledged as a sport that can be enjoyed by older people thanks to the fact it is gentle on the muscles and can be enjoyed at a leisurely pace.
Gifts for certain stages of dementia
Early/mild stage of dementia 
At this stage of dementia, someone may be functioning independently but it is common to see symptoms such as forgetfulness, slower speed of thought, difficulty with finding words, misplacing items and some confusion. Differences depend on the type of dementia and the individual but the defining point of this stage is that there has been a mild decline in cognition and daily functioning that are over those that would be expected for someone of a similar age.
Present ideas at this stage may include:
Activity books, crossword puzzles
Photo album filled with pictures of friends and family
Radio
Crocheting or knitting materials
Colouring books
Nature documentary DVDs
Middle/moderate stage of dementia 
At this stage of dementia, symptoms will have progressively declined and there may be further cognitive difficulties seen such as more problems with speech and language, difficulties with problem-solving and worsening judgement. It is not uncommon for individuals to leave the stove on or forget to lock the front door. Individuals may start to need some support with everyday basic tasks and sleep may become disturbed. Changes to personality may also be seen such that there is more irritability and lower mood. This may lead the person to become socially withdrawn.
Present ideas for this stage may include:
Nightlights that turn on automatically
Large visual clock that displays time and date to help keep your loved one orientated
Simple crafts that you may be able to do together
Shoes with Velcro that are easy to put on and get off
Late/severe stage of dementia 
At this stage of dementia, deteriorations in cognitive functioning continue but there may also be a decline in physical wellbeing, with people experiencing difficulties with eating, walking and bowel movements. Behavioural changes may still occur with further changes to personality and more disorientation leading to wandering and agitation.  Present ideas for this stage are probably the most challenging as you may find it difficult to recognise your loved one and engage with them in the same way you used to.
Some gifts that can be helpful to a person with dementia may include:
Warm clothing such as a fluffy dressing gown or warm slippers
CDs and movies from the person's past
Blankets and throws
How we can help
We are a live in care agency that work hard to arrange a live-in carer who is suited to every client's needs. With specialist live-in dementia care services,  you can find a suitable carer for your loved one to give you peace of mind. We will work with you to find the perfect carer to provide tailored, specialist dementia care for your loved one.  Speak to our team today, who are on hand to answer any questions you have.